MATHIAS LARSSON

Well for you Americanos i can say that Mathias is the same as your "Matthew",but my friends call me Matte.Hmm lets see,my second name is after my Father,Jan.Or as he was called *Janne*,and when i say "was" thats becourse he died six years ago in a fire.Well anyway before we all break down in tears about this lets talk about something more joyful.My family contains with two brothers,one of them are my twin,and i have one little sister.Im the oldest,it was close fight between me and my twin but i won with 11 minutes,how about that.Ok then lets take a look at me,well im a sweet guy in every way.I never get mad,im always smiling,im always there,im a bit shy,i have been heartbroken and i love reading Fantasy,my escape from the so called real world...

Intrests:
Intrests are a big deal to me,i never give my self half hearted in to something,i give my full heart in to something.Well my intrests stretches very big,but some of my most deepest intrests are Herpetologi (Snakes),i find them intresting and uniqe.Graphics are also some of my intrests.And of course Reading,one of my more obsession.I also like Fishing,me and my twin have our own PulpetBoat so we try to spend a great deal out to sea when we can.Well thats some of the things i like to do.

Reading Fantasy
Fantasy is like food to me,when it comes to this i must say that i have read almost evrything,i can easily say that i have read more then 50 different authors,but not all are briliant.There are only a few good ones and some are on this site.My personal favourite is David Eddings,he combines his books with humor and a great Adventure that just makes you wanna jump in.I mean when im not reading his books its like a miss the caracters.If you are a person that never read a Fantasy book,i can deeply recommend this Author,he will make you a future Fantasy fan.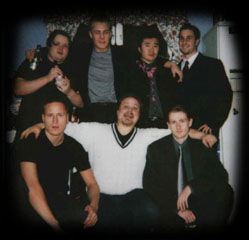 *Some of the Boys during the Millenium*

If you have anymore Questions just send me a E-mail or send me a Icq message (9174441),now remember, Be Good !!!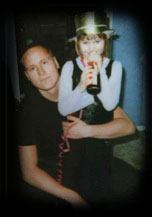 Were do you find Me ??
Well thats no great Mysterie,all you have to do is look a bit North on the World Map,and right there next to Norway is my home Land,Sweden.For you *Swedes* i live in Gavle.

Life Experience
I have done a great deal of things under my life,i have worked with children,as a personal assistent,as a IT-Pilot,handeling the Computer section at a school,as a saler,as a DJ and now i work with the ting i was trained to do,i Paint.Well i also work extra as a Leader at a YouthCenter.

Ambitions in Life
Well i want to do a great deal in life,but one of my most sacred things is a trip to Australia.The land *Down Under* has always facinated me,i mean it has it all,RainForests,Desert and a great Ocean.Im planning on going there when i saved enough money,i want to stay at least six months so thats gonna cost.One of my Ambitions in life was Diving,thats a goal i have allready achived.